Managed Account
Forex Managed Account is a service provides by MountFx. which is specializing in managing the assets of clients in Forex market on behalf you. We are offering a unique opportunity to take the advantage of Forex trading through best available trading system & strategy developed by our highly experienced professionals.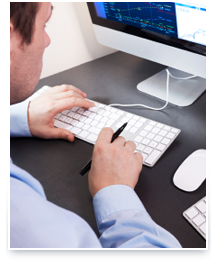 Forex Managed Account is created to give an investor who cannot watch the market 24hours a day and take an opportunity to participate in the exciting world of forex trading or currency trading.
A Forex managed account is also ideal for those investor who prefer to have their capital managed by professional. This is a viable solution for individuals or corporates that looking to diversify or an investment plan into forex without hand on involvement. It is an effective way for retail investor to benefit from the knowledge, resources and experience of an investment manager without the restrictions of investing in a hedge fund or other alternative investment. Forex managed accounts now seems to be popular than ever around the world and the right choice of investment.
Features of MFX Managed Account:
Transparency – You can see your trading history of all transaction that we trade for you by email statement daily.
The investor opening an account direct to well known UK broker as a investing partner.
Active and hands-on management of your investments by experienced professionals with an systematic and disciplined trading methodology.
Liquidity of assets – Money can be withdrawn at any time no lock up period.
Main Objective:
To safe the capital with strict money management and grow the capital consistency and steadily through our best specialized system.
Minimum Investment - 10000 USD
Maximum Risk - 3%
Maximum Drawdown - 15%
Expected Returns - 70 to 100% Yearly AVG
Performance fees - 30% of the profit
High watermark policy - Yes
No yearly fee, No monthly fee, No registration fee, No management fee, No transaction fee, No hidden fee. We charge performance fee only. We only charge when you make profit.